Company Profile
Aqrose Technology, established in 2017, is a Technologically Advanced "Little Giant" enterprise in Beijing and a high-tech enterprise. The core team originated from the AI Laboratory of Tsinghua University and is dedicated to applying cutting-edge artificial intelligence and machine vision technologies to the industrial field to empower global manufacturing enterprises.
Our products, including the Professional industrial AI vision algorithm software platform AIDI, Embedded AI series products EVS, Cloud-based Industrial AI Vision Platform NexSight and vertical industry AI solutions, have been widely used in consumer electronics, automotive, new energy, medicine, semiconductor and other industry applications. Currently, our products are actively deployed online in more than 100 factories, including dozens of benchmark enterprises in the field of advanced manufacturing and smart logistics. Aqrose has become the leader of domestic industrial AI platforms providers.
At present, more than 70% of the company's core team members has master's or doctoral degrees. Till now, Aqrose boasts 100+ intellectual property rights, over 50 patents(including those in patent prosecution) and 60+ software copyrights. The team has been working in AI technology, especially in the field of image recognition for many years, and has won a series of awards in international image analysis competitions.
Adhering to the philosophy of "Staying Realistic and Pragmatic, Aiming for Excellence, and Serving for Customer Success", we have been deeply cultivating in the field of industrial quality inspection, focusing on industrial AI vision and intelligent analysis services. In order to provide better products and industry solutions, we will continue to work hard to become the AI algorithm and product team that understands the industry best, and put AI into practical use in thousands of factories.

Enterprise Spirit
Think big. Start small. Move fast.
We build the learning organization culture of Aqrose with pragmatic idealism and spirit of unlimited lifelong learning. We dare to try and challenge with lofty ambitions and without setting limits. As action speaks louder than words, we learn in action, and grow in learning.
Mission
AI for Every Factory
Vision
Global leader in industrial AI vision platforms and solutions
Values
Stay Realistic & Pragmatic. Aim for Excellence. Serve for Customer Success. Be Honest & Open.Invent & Simplify. Always Day 1.
We are looking forward to partnering with those who share the Aqrose's entrepreneurial spirit and would like to uphold our cultural value by action, to jointly promote AI for every factory!
Memorabilia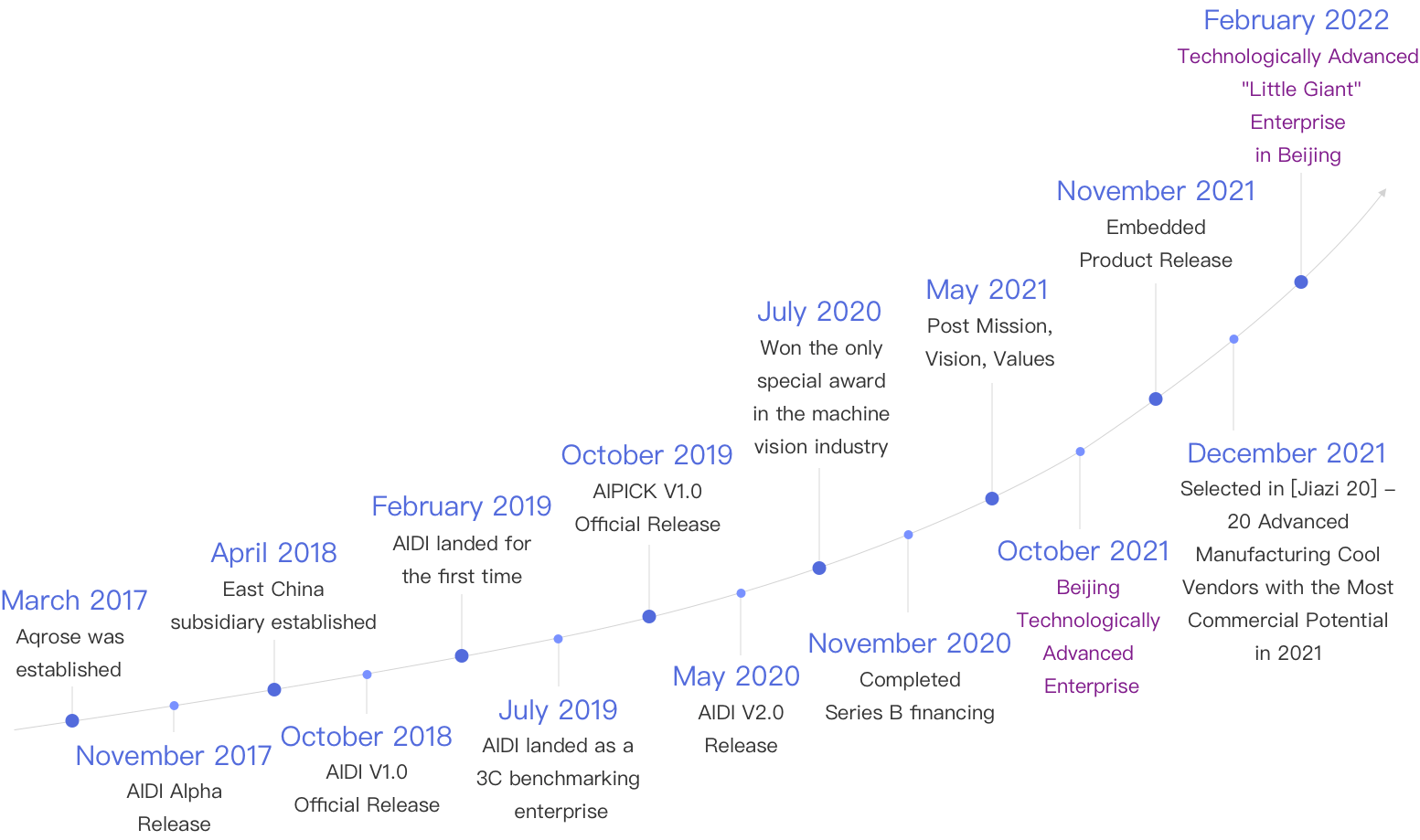 Partnership
Company Address
Beijing

3rd Floor, No.7, Shangdi Information Road, Haidian District, Beijing

Suzhou

18th FLoor, Block A, Jinrong Street, Economic-tech Development Zone, Kunshan City, Jiangsu Province

Room 515, Guanghong Building, Suzhou Industrial Park, Suzhou City, Jiangsu Province

Shenzhen

Room A401, Building G4, TCL International E City, Nanshan District, Shenzhen City, Guangdong Province

Taiwan

11F, No 10, Sec 1, Zhongshan Rd, Banqiao Dist, New Taipei City, Taiwan